The "Rolwaling Valley Trek" is a popular trekking route located in the Rolwaling region of Nepal, which is known for its stunning natural beauty and remote wilderness. Here is some information about the Rolwaling Valley Trek:
Location: The Rolwaling Valley is situated in the northeastern part of Nepal, close to the border with Tibet. It is a hidden gem that lies between the Everest and Langtang regions.
Highlights: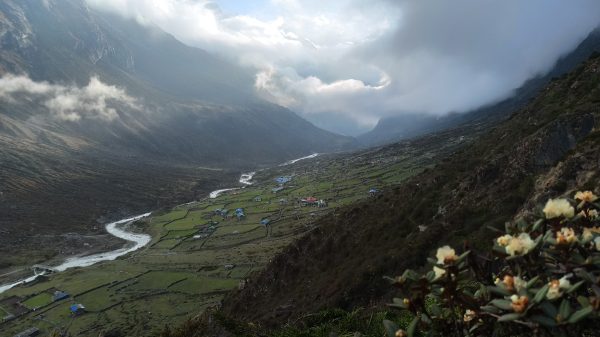 Scenic Beauty: The Rolwaling Valley offers breathtaking views of snow-capped peaks, lush forests, and pristine alpine lakes. The trek provides a chance to experience Nepal's natural beauty in a relatively untouched setting.
Remote Wilderness: Unlike the more popular Everest Base Camp trek, the Rolwaling Valley Trek is less crowded, making it a great choice for those seeking a quieter and more remote trekking experience.
Challenging Trek: The trek is known for its challenging terrain and high-altitude passes. Trekkers should be well-prepared and in good physical condition. The highlight of the trek is crossing the Tashi Lapcha Pass, which can be quite demanding.
Rich Culture: Along the trek, you'll encounter Sherpa and Tamang villages, allowing you to immerse yourself in the local culture and traditions of the region.
Naturals Wonders: The Rolwaling Valley is home to Gauri Shankar, one of the holy mountains in Nepal, and the stunning Tso Rolpa Glacier Lake, which is a significant attraction.
Trekking Permits: To trek in the Rolwaling Valley, you will need the necessary trekking permits and TIMS (Trekkers' Information Management System) cards. Make sure to check the latest permit requirements and regulations before starting your trek.
Trekking Duration: The duration of the trek can vary depending on your specific itinerary, but it typically takes around 15 to 20 days to complete the circuit.
As trekking conditions and regulations can change, it's crucial to check with local authorities or trekking agencies for the most up-to-date information and to ensure that you are adequately prepared for this challenging and rewarding adventure.
Post Tags:
Annapurna Region Trek
Everest Region Trek
Trekking
Expedition
Affliations
We are Associated and Certificied with