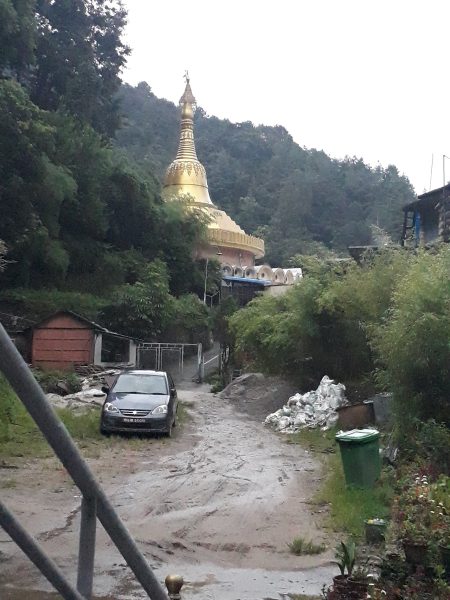 Combining Vipassana meditation and trekking adventure in Nepal can be a transformative experience, offering both inner reflection and connection with the stunning natural beauty of the Himalayas. Vipassana is a form of mindfulness meditation that emphasizes self-awareness and insight into the nature of reality. Many people find it beneficial to practice Vipassana in a serene and secluded environment, making Nepal's landscapes and spiritual atmosphere a suitable backdrop.
Here's a general outline of what you might expect for a Vipassana meditation and trekking experience in Nepal:
Choosing a Vipassana Center: Nepal has several Vipassana meditation centers that offer retreats and courses. Some of the most famous is the Nepal Vipassana Center, located in Kathmandu, Dhamma Janani, located in Lumbini, the birthplace of Lord Buddha. If you are planning to do trekking around Annapurna region, Pokhara also have Vipassana centre located at besides of Begnas lake. Similarly Dhamma Sagar Vipassana Center is located at 2850 meters (9350 ft) in the Sagarmatha (Mt. Everest) region of Lukla. It is the highest Vipassana Center in Nepal. If you are planning to do Everest Base Camp trek this center should be a good option. Research and choose a center that aligns with your preferences and schedule.
Duration: Vipassana meditation courses can vary in duration, from 10 days to several weeks. Consider your level of meditation experience and the time you can commit to the retreat. Longer retreats often provide a more profound experience.
Preparation: Make sure you are physically and mentally prepared for the trek and meditation. Trekking in the Himalayas can be physically demanding, so be sure to engage in regular exercise and consider acclimatization days if you're going to higher altitudes.
Trekking Route: There are numerous trekking routes in Nepal, each offering unique experiences. Some popular options that could be combined with a meditation retreat include the Everest Base Camp trek, Annapurna Base Camp trek, Annapurna Circuit trek, and Langtang Valley trek, Manasalu Circuit trek. Find the best routes, which is suitable for you.
Itinerary Planning: Plan your itinerary to include both the Vipassana meditation course and the trek. You may want to meditate before or after the trek to ensure you're physically prepared and your body is less fatigued during meditation.
Packing: Pack wisely for both the meditation retreat and the trek. You'll need comfortable meditation clothing and items like a cushion or mat for meditation. For the trek, you'll need appropriate clothing, trekking gear, and essentials like a sturdy backpack, hiking boots, and warm clothing for higher altitudes.
Guidance and Teachers: Meditation retreats often have experienced teachers who guide you through the practice. Similarly, if you're trekking with a group, you'll likely have guides and porters to help you navigate the trail.
Accommodation: During the meditation retreat, you'll likely stay at the meditation center's accommodation. For the trek, accommodations can range from teahouses to lodges depending on the route you choose.
Altitude Considerations: If your trek involves higher altitudes, be mindful of altitude sickness. Acclimatization days and staying hydrated are crucial.
Cultural Sensitivity: Nepal is a culturally rich country, and it's important to respect local customs and traditions. Learn about the local culture and etiquette before you go.
Permits and Regulations:The trekking routes in Nepal require permits. Make sure you're aware of the necessary permits and regulations for your chosen route.
Combining Vipassana meditation with trekking in Nepal can be a deeply rewarding experience, allowing you to immerse yourself in both inner and outer exploration. Just remember to plan ahead, be well-prepared, and approach the journey with an open heart and mind.
Post Tags:
Annapurna Region Trek
Everest Region Trek
Trekking
Expedition
Affliations
We are Associated and Certificied with