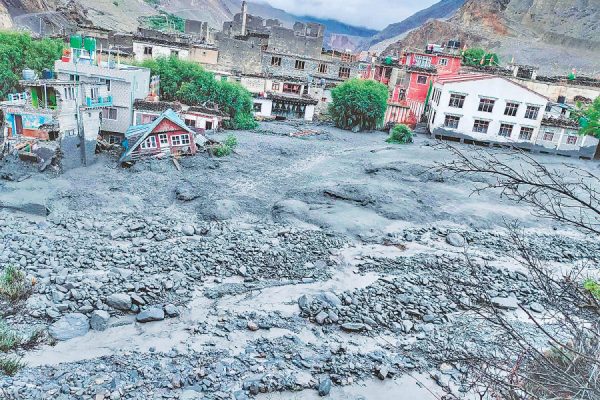 A calamitous flood swept through the serene village of Kagbeni in Mustang, leaving destruction in its wake. The relentless surge of water, triggered by heavy rainfall and a landslide upstream, resulted in the devastation of homes, bridges, and vital infrastructure.
On a fateful Sunday, the Kagbeni River transformed from a placid watercourse into a furious force of destruction. The river, blocked by a landslide upstream, surged uncontrollably, bursting its banks and inundating the lower reaches of the village. As a result, 29 homes were washed away, leaving more than 150 residents displaced and in dire straits.
The initial findings of the District Disaster Management Committee revealed the staggering scope of destruction. In addition to the homes lost, critical infrastructure suffered severe blows. The floodwaters claimed a motorable bridge along the Jomsom-Korala road section, a suspension bridge, 12 vehicles (including construction equipment), and three temporary bridges. Even an inn frequented by travelers was buried under the deluge.
Amid the chaos, the Kagbeni community exhibited resilience and solidarity. Displaced locals found refuge in rural municipality office buildings and community halls, while others sought shelter with relatives. The Chief District Officer, Anup KC, highlighted the fortunate timing of the disaster, occurring in the evening when most people were able to escape harm. However, the disaster left hundreds of hotel operators and workers displaced. Managing seasonal workers became a daunting challenge, especially considering the financial constraints associated with their return home.
As the floodwaters receded, the process of assessing the extent of the damage commenced. The Varagung Muktichhetra Rural Municipality-4, Kagbeni, was severely impacted by the floods. Incessant rain and a blocked Kagkhola river unleashed chaos, washing away 20 houses, the police station building, and numerous other structures, leaving at least 36 houses damaged. Authorities and local representatives promptly initiated damage assessment, with the focus on offering emergency accommodation for the displaced. The flood even disrupted direct traffic to Upper Mustang by washing away a temporary bridge within Kagbeni village and a concrete bridge under construction to connect Jomsom-Korla.
The recent flood disaster in Kagbeni stands as a stark reminder of the unpredictability and destructive power of nature. As the community and authorities work together to assess the damage, provide emergency shelter, and plan for recovery, it is clear that disaster preparedness and resilience-building are paramount. The people of Kagbeni exemplify human strength and unity in the face of adversity, a testament to the unwavering spirit that will undoubtedly guide them towards rebuilding their lives and village stronger than ever before.
Post Tags:
Annapurna Region Trek
Everest Region Trek
Trekking
Expedition
Affliations
We are Associated and Certificied with