Established in 1964, Lukla Airport also known as a Tenzing Hillary airport was named after Sir Edmund Hillary and Tenzing Norgay Sherpa, the first climbers to reach the summit of Mount Everest. The journey to Lukla begins with a domestic flight from Kathmandu, the capital city of Nepal. For trekkers and climbers, landing at Lukla marks the beginning of an epic journey. The airport is the entry point to the Everest Base Camp trek, a pilgrimage for those seeking to conquer the world's highest peak. Lukla also offers travelers the opportunity to experience the rich Sherpa culture and hospitality. The aerial journey from Kathmandu to Lukla is a thrilling experience that marks the beginning of an extraordinary adventure for trekkers and climbers.
The elevation of Lukla Airport at 9,334 feet above sea level, is one of the highest airports in the world. Additionally, passengers arriving at such high altitudes may experience symptoms of altitude sickness, such as headaches, dizziness, and shortness of breath, due to the reduced oxygen levels. It underscores the importance of proper acclimatization for travelers, especially those planning to trek in the Everest region, as their bodies need time to adjust to the thin air to avoid altitude-related health issues.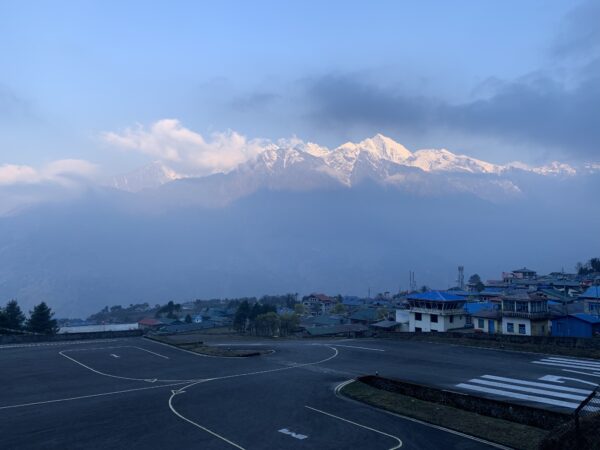 The short runway at Lukla Airport poses a significant challenge for pilots and underscores the need for precision and skill during takeoff and landing. The limited length of only 527 meters leaves no margin for error, making every maneuver crucial for the safety of both passengers and crew. The Everest region's weather, including Lukla Airport, is notoriously unpredictable and can change rapidly, creating challenging conditions for pilots. The combination of poor visibility, strong winds, and swiftly forming cloud cover significantly amplifies the risks associated with flights in and out of Lukla Airport. Despite its reputation as one of the most dangerous airports globally, continues to be a bustling hub, especially during peak seasons when as many as 50 flights navigate its challenging runway daily.
It's remarkable that the most dangerous airports in the world, Lukla Airport maintains a very low accident rate. This accomplishment is a testament to the exceptional skills, training, and dedication of the pilots and aviation professionals who operate in this challenging environment.
In summary, the combination of unpredictable weather, lack of advanced navigation equipment, and the high-altitude setting makes Lukla Airport a formidable challenge for pilots and a source of anticipation for passengers. The strict adherence to safety protocols, including early morning flight schedules during clear weather, highlights the meticulous planning and expertise required to operate in such a demanding environment. Despite these challenges, the airport continues to facilitate the dreams of countless adventurers, offering a gateway to the mesmerizing world of the Everest region.
Post Tags:
Annapurna Region Trek
Everest Region Trek
Trekking
Expedition
Affliations
We are Associated and Certificied with