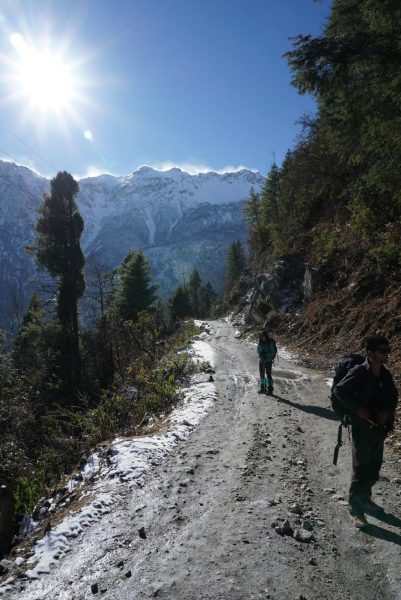 Trekking to Annapurna Circuit is considered one of the most beautiful and popular treks in the world. It is a 21-day trek that takes you through the lush green forests, charming villages, and high-altitude landscapes of the Annapurna region of Nepal. Here's everything you need to know about this unforgettable adventure.
Starting from the town of Besisahar, the trek takes you through the Marsyangdi River valley, offering stunning views of snow-capped mountains such as Annapurna and Dhaulagiri. Along the way, you'll cross suspension bridges, pass through rhododendron forests, and encounter local people and their unique culture.
The highlight of the trek is reaching Thorong La Pass, which is the highest point of the trek at 5,416 meters above sea level. The climb to the pass is challenging, but the views from the top make it all worth it. You'll be rewarded with panoramic views of the Annapurna and Dhaulagiri mountain ranges.
One of the unique aspects of the Annapurna Circuit Trek is the variety of landscapes you'll encounter. You'll start in lush green forests and gradually ascend to the barren, rocky terrain of the high-altitude regions. The changing landscapes and the stunning views make this trek an unforgettable experience.
Trekking to Annapurna Circuit is an opportunity to immerse yourself in the local culture. You'll encounter different ethnic groups such as the Gurungs, Thakalis, and Manangis, each with their own unique customs and traditions. You'll get to witness their way of life and experience their warm hospitality firsthand.
The best time to trek the Annapurna Circuit is from March to May and September to November when the weather is mild and clear. The trek requires a moderate level of fitness and experience in high-altitude trekking. It's essential to acclimatize properly to avoid altitude sickness.
In conclusion, the Annapurna Circuit Trek is a once-in-a-lifetime experience that should be on every trekker's bucket list. The stunning landscapes, challenging terrain, and unique cultural experiences make it an unforgettable adventure that will stay with you forever.
Thank you for reading!
Post Tags:
Annapurna Region Trek
Everest Region Trek
Trekking
Expedition
Affliations
We are Associated and Certificied with