Island Peak Climbing
Climbing Island Peak accounts for a unique adventure in the eastern Himalayas of Nepal. Island Peak Climbing is one of best experiences of trekking in the Himalayan Region of Nepal. One can relish views of magnificent mountains from various points en route and pass through culturally rich Sherpa villages. On top of Island Peak, a 360o view of the entire valley awaits you along with some of the towering peaks of Everest (8,848m), Lhotse (8,414m), Ama Dablam (6,856m), and Makalu (8,463m).
The 20-day Island Peak Climbing begins upon your arrival in Kathmandu City. You will do a full-day sightseeing tour of the UNESCO World Heritage Sites in Kathmandu namely Pashupatinath, Boudhanath, Kathmandu Durbar Square, and Swayambhunath. The next day, you will take a short flight to the small Himalayan village of Lukla. The trek begins at Lukla and gradually advances up north through the scenic Sherpa villages of Phakding, Namche, Tengboche, Dingboche, Lobuche, and Gorakshep. You will head up to Everest Base Camp from Lobuche passing Gorakshep on the way. You return to Gorakshep and start an early morning hike to Kalapatthar (5,545m) the next morning. The summit offers glorious views of the mesmerizing Himalayan ranges including the Mt. Everest (8848m) itself.
Thereon, you descend to Chhukung village via Dingboche and head to the Island Peak Base Camp. The entire climbing may last around 12 hours. Once at the summit, enjoy the view of the entire valley and that of towering peaks like Everest (8,848m), Lhotse (8,414m), Ama Dablam (6,856m), and Makalu (8,475m). Afterward, you will descend to Dingboche village and prepare to trek downhill to reach Lukla via Namche Bazaar. The trip comes to an end with your return from Lukla to Kathmandu. You can climb Island Peak during two different seasons namely spring (Mar-Jun) or autumn (Sep-Nov) season. These seasons guarantee best weather and accessibility.
Danphe Adventure Treks has been specializing in peak climbing around Nepal for many years. You can join our fixed groups or undertake an entirely private trip at a reasonable cost. Our all-inclusive package covers transportation inside the country, experienced guides, permits, and logistics.
Trip Highlights
Enjoy a tour of Kathmandu valley visiting some UNESCO World Heritage Sites
Embark on an adventurous flight to/from Lukla
Climb one of the most popular peaks in Nepal, the Island Peak (6189m)
Trek through the Everest trail past Sagarmatha National Park, Sherpa villages, lush hills, rugged mountain terrain and glaciers
Witness breath-taking panorama of the Himalayas including the Mt. Everest (8848m), Lhotse (8414m), and Ama Dablam (6856m)
Trip Itinerary
Expand All
Shrink All
Day 01: Arrival at Kathmandu airport and transfer to hotel | 1,300m

Our company representative will warmly receive you at the airport and bring you to your hotel. After checking-in, you will meet with your climb guide and discuss the itinerary in detail. Afterward, you can take a stroll around the nearby market and do any last-minute shopping for the trip. Overnight in Kathmandu.

Day 02: Full day of sightseeing of Kathmandu valley (B)

While your climb guide is getting your permits, you will do come sightseeing around the Kathmandu Valley. Accompanied by a tour guide, you will first visit Swayambhunath, and then head to Pashupatinath. One of the largest and most important Hindu sites in Nepal, Pashupatinath attracts millions of visitors every year. Afterward, you visit the largest stupa in Nepal, Boudhanath, followed by a brief tour of Kathmandu Durbar Square. Overnight in Kathmandu.

Day 03: Fly from Kathmandu to Lukla and Trek to Phakding (B, L, D) | 2,610m

After an early breakfast, you will drive to the airport and take a 35-minute flight to Lukla. Lukla is located 140 km northeast of Kathmandu in the Khumbu region, and serves as a gateway to the Everest region. After a brief rest, you will begin trekking downhill and gradually advance to Phakding village. It's a small village that lies in the Dudh Koshi River Valley. Overnight in Phakding.

Day 04: Trek from Phakding to Namche Bazaar (B, L, D) | 3,440m

From Phakding, you will gradually trek north and arrive at Monjo. Monjo serves as the entry point to Sagarmatha National Park, the first Himalayan national park of Nepal and a UNESCO Heritage Site. You will obtain a permit and trek through the park. The trail goes along the Dudh Koshi valley to reach Namche Bazaar. It may take 5-6 hours to reach Namche Bazaar from Phakding. The second half of the trek is steep and might be slightly challenging. Overnight in Namche Bazaar.

Day 05: Rest day at Namche Bazaar for acclimatization (B, L, D)

Today, you will spend the day acclimatizing at Namche Bazaar. Namche is the largest village in the entire Khumbu region. You can choose to explore the village and the surrounding areas on this day. You can make a short hike to Khumjung and Khunde villages. Khumjung remains popular for the Khumjung Monastery that is known to have preserved the supposed Yeti scalp and palm inside a glass box. You can also visit Sherpa Culture Museum. Overnight in Namche Bazaar.

Day 06: Trek from Namche Bazaar to Tengboche (B, L, D) | 3,870m

You will leave Namche and continue along the Dudh Koshi River. The trial is pretty smooth. You arrive at Phunki Thanga and ascend through the rocky terrain to reach Tengboche. The beautiful sight of Ama Dablam (6,856m) will accompany you throughout the trail. Tengboche is a Sherpa village and is home to Tengboche Monastery, the largest Buddhist monastery in the entire region. Overnight in Tengboche.

Day 07: Trek from Tengboche to Dingboche (B, L, D) | 4,410m

Leaving Tengboche, the trail descends to the village of Debuche. From here, you will cross a bridge to reach the other side of Imja Khola. The trail advances to Pangboche through a rocky terrain. Here, you will encounter thousands of Mani stones and a handful of Buddhist monasteries. After a brief uphill walk, you will arrive at the traditional Sherpa village of Dingboche. Overnight in Dingboche.

Day 08: Rest day at Dingboche for acclimatization (B, L, D)

You will spend the day acclimatizing at Dingboche before heading further up. Here, you can enjoy the scenery of the surrounding valleys of Chhukung and Imja valley. Imja valley connects Dingboche with the rest of the region including the Island Peak (6189m) and Makalu Barun National Park. From Dingboche you get a panoramic view of various peaks of the Everest Region. Overnight in Dingboche.

Day 09: Trek from Dingboche to Lobuche (B, L, D) | 4,910m

From Dingboche, you head to the Thukla village and cross the Thukla Pass (4830m). The trail advances along the snow moraines of Khumbu Glacier to Lobuche village. Lobuche is a small Sherpa village located at the foot of Lobuche East (6,119m). From here, you can catch the magnificent sights of Lobuche East (6119m), Pumo Ri (7,165m), and Nuptse (7861m). Overnight in Lobuche.

Day 10: Trek from Lobuche to Everest Base Camp via Gorakshep | 5,364

Leaving Lobuche, you will head north towards Gorakshep village. Gorakshep serves as the final point of the trek before reaching Everest Base Camp or Kalapatthar. A comparatively easy trail, you will trek to Gorakshep from where you will gradually advance through boulders and moraines to reach Everest Base Camp. At the base camp, you can explore the Khumbu glacier and relish the sights of a plethora of Himalayas before heading back to Gorakshep. Overnight in Gorakshep.

Day 11: Trek from Gorakshep to Kalapatthar & trek to Dingboche (B, L, D) | 5,550m

You will start early today, and trek to Kalapatthar. The short but tough uphill hike takes you to the top of Kalapatthar. On top, you can catch the beautiful sight of Everest's summit (8848m) glimmering in the sunlight, and also see Lhotse (8414m), Nuptse (7861m), and Pumo Ri (7165m). Afterward, you will head back to Gorakshep. After breakfast, you will continue downwards and head to Dingboche village. Overnight in Dingboche.

Day 12: Dingboche to Chhukung Valley (B, L, D) | 5,200m

Leaving Dingboche, you will head east towards the quaint village of Chhukung. The trail rises gently. It's a comparatively shorter hike which takes you along the Chhukung glacier. Chhukung village lies inside Chhukung valley on the foothills of Chhukung Ri (5550m). Island Peak (6189m) and Chhukung Ri (5550m) give you magnificent view from the village.

Overnight in Chhukung.

Day 13: Trek from Chhukung valley to Island Peak Base Camp (B, L, D)

A shorter trek, you will move from Chhukung village to Island Peak Base Camp. Passing along the Lhotse Glacier, you will head through the Imja and Lhotse glacier moraines to arrive at the base camp. The trail leads to a wide valley flanking the southwestern side of the peak. The camp has a great view of the entire Imja Valley, Lhotse Glacier, and Imja Tsho Lake. Overnight in Island Peak Base Camp.

Day 14: Submit Island peak and trek down to Dingboche (B, L, D) 6,189m

Today is the summit day. You wake up around 2 am and have your breakfast, and start your climb. The trail follows a ridgeline that leads to an exposed traverse onto the snout of the summit glacier. Henceforth, you will use fixed rope to climb all the way to the top. This trek is challenging and will feel long, hard and slow. The summit offers a magnificent view of the Mt. Everest (8848m), Lhotse (8414m), Ama Dablam (6856m), and Makalu (8463m). Afterward, you gradually trek all the way down to Dingboche. Overnight in Dingboche.

Day 15: Spare day for the climbing in case of bad weather (B, L, D)

The weather in the high altitudes are not always favorable scaling the peak. A spare day is detonated to ensure that you complete the climb today in case of such situations on the day before.

Day 16: Trek from Dingboche to Namche Bazaar (B, L, D) | 3,440m

Leaving Dingboche, you will retrace your path back to Namche Bazaar. Passing Imja Khola, you will trek along the Dudh Koshi valley and through the forested path covered by rhododendron and juniper trees. You cross the village of Sanasa to continue your gradual descent to Namche Bazaar. You can treat yourself with modern luxuries at Namche. Overnight in Namche.

Day 17: Trek from Namche Bazaar to Lukla (B, L, D) | 2,800m

You will see the last of Dudh Koshi valley as you leave Namche and head towards Lukla. The trek downhill is long and may take 6-7 hours. You will make couple of stops on the way. You will cross Hillary Suspension Bridge and walk towards Phakding. A brief downhill trek will bring you to Lukla. In Lukla, you can celebrate the completion of your long trek. Overnight in Lukla.

Day 18: Fly from Lukla to Kathmandu (B)

You will leave Everest region and catch a flight back to Kathmandu. It may take 35-40min to reach Kathmandu. In Kathmandu, you will be escorted back to your hotel. In Kathmandu, you can head to the wellness centers and spas to tend to your mountain-weary bones. You can also rest at the hotel or enjoy Newari cuisines. Overnight in Kathmandu.

Day 19: Leisure day in Kathmandu (B) | 1,300m

In Kathmandu, you can enjoy time exploring the local market, shops, and restaurants. There are a number of tourist attractions in the city including a few UNESCO world heritage sites you might not have visited earlier. Explore the culturally rich city and do shop for souvenirs and mementos on the way. Overnight in Kathmandu.

Day 20: Transfer to international airport for your final flight departure (B)

Our company representative will drop you off at Tribhuvan International Airport today for your scheduled flight back home. You will leave for the airport approximately 2 hours early. We bid you farewell and hope for another trip with you.
*All Inclusive Price*
$2500 USD
Prompt Online Booking
Well Arranged Itenary
Group Discount Available
Privacy Protected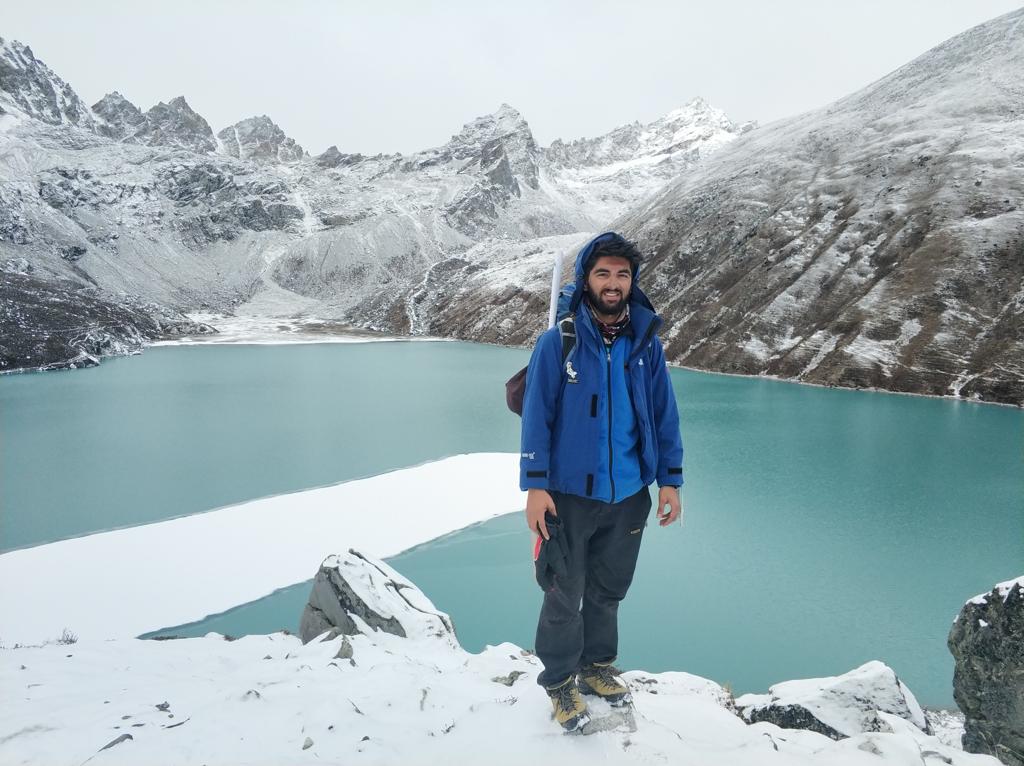 Any Question? Feel free to call our travel experts.