Tilicho Lake Trek
Tilicho Lake Trek is one of the best trekking destinations for those who want to experience the beautiful scenery of mountains and lakes at the same time. Tilicho Lake elevated at an altitude of 4919m which is known as the highest lake in the world, located in the Manang District of Nepal Annapurna region. The mountains with the purest water with an attractive route follow Tilicho lake Trek.
The 18 days trek begins in Kathmandu with visits to several UNESCO cultural heritage sites. Afterward, a full day drives to Chamje the trek Start from here. From where you follow the trails of Marsayangdi River leading to the villages of Tal, Dharapani, Chame, Pisang, Manang, Khangsar and finally to Tilicho Lake. From Tilicho Lake there is an option to crossing the Moesokanta La pass to Jomsom, instead of Thorang La pass, but additional tented camp is required because of no lodges around those places. After Tilicho the trek descends to Yak Kharka, Thorang Phedi, high camp and finally Thorang-La pass. After Thorang-La enjoying the view of Dhaulagiri massif, you trek down to the windy town Muktinath, Kagbeni and Jomsom. The 17 days Tilicho Lake trek concludes in Jomsom, then you will fly above the deepest gorge in the word (Kaligandaki River) to Pokhara.
Tilicho Lake trek attaches with the Annapurna Circuit route which is one of the most popular trekking in Nepal. The trail leads to the beautiful village of Manang inhabited by a wide diversity of people from different ethnic groups and cultures. The view of mountains, and walking over to gorgeous hills are stunning. Along the way, you will see numerous monasteries, gompas, and traditional villages of the Buddhist community. Tilicho Lake trek has a great variety of cultural and natural diversity with the lush green hill, dry valley and great Himalayan scenery of the highest mountains like Manaslu (8,163m), Dhaulagiri (8,167m) Annapurna I (8,091m) and other peaks.
This trek is not only for the scenery of Tilicho Lake but also for walking in Annapurna Circuit Trek. The trail starts from subtropical climate-to snow land and end to the dry valley. The best time to do this trip is from March to May (Spring) and September to November (Autumn).
Trip Highlights
Visit world highest Lake Tilicho Lake (4119m).
Visit old Buddhist monastery in Barga village.
Explore beautiful Manang village.
Kaligandaki George The deepest George in the world.
Thorang-La pass (5416m).
Ascending the Marshyangdi valley with the best view of Annapurna massif, Mt. Dhaulagiri and Mt. Manaslu.
Two nights in Tent (Camping).
Trip Itinerary
Expand All
Shrink All
Day 01: Arrival in Kathmandu (1,300m)

Welcome to Nepal, One of our representatives will welcome you at Tribhuvan International Airport. Then you will be transferred to the hotel. Overnight at hotel in Kathmandu.

Day 02: Kathmandu Sightseeing and trek preparation

Early in the morning, about 9 am, we take you for the sightseeing tour in some of the UNESCO world heritage sites. This tour includes Baudhanath, Pashupatinath Temple, Kathmandu Durbar Square and Swyambhunath (Monkey Temple) then return to the hotel. You will have some free time for preparing a trek.

Day 03: Drive to Chamje (1,410m): 6-7 hours

Early in the morning, we start the day with the drive to Chamje village, which is the starting point of the trek. We will be followed Trishuli River and Marsyangdi River, with the view of lush hills and highway-side settlements. There is a waterfall which is an attraction, the beautiful greenery all around will fuel us the trek go ahead. Overnight at hotel in Chamje.

Day 04: Trek from Chamje to Dharapani (1,960m): 5-6 hours

After breakfast, we slowly begin our trek today with the remarkable views of high hills, waterfalls, gorge, snow-covered peaks, and scattered settlements. After crossing the suspension bridge below Chamje, then we descend to a grassy riverbank that leads to the village of Tal which is the border of Manang District. Afterward we will cross the waterfall at Tal and continue walking uphill until you reach Dharapani. Overnight in Dharapani.

Day 05: Trek from Dharapani to Chame (2,710m): 5-6 hours

Today we walk through a few forested ridges on our way to Chame, which is the headquarters of Manang District. The trail ascends to Bagarchhap via Order, along the way we will cross Marshyangdi River several times as you continue the follow a trail of Marshyangdi until Chame. Throughout the trail, you will be greeted with remarkable views of Lamjung Himal, Annapurna II and Annapurna IV (7,525m). Overnight in Chame.

Day 06: Trek from Chame to Pisang (3,300m) 5-6 hours

Today the trail continues to enter a forested path filled with pine trees along the Marsyangdi River. As you passing several rivers and sparsely populated settlements, we will reach the first view of Paungda Danda rock face, a dramatic curved rock face rising 1500m from the river. From here we also gain excellent views of Annapurna II and Annapurna IV. Afterward, the trail descends to Dhikur Pokhari and continue to Pisang. In the evening we can visit the Temple and Monastery in Pisang, which hosts the excellent views of the Pisang peak (6091m) and other several mountains. Overnight in Pisang.

Day 07: Trek from Pisang to Manang (3,500m): 5-6 hours

There are two routes to go to Manang from Pisang, but we follow the trail that takes us to Upper Pisang via Geru. This route will take you the outstanding views of the Annapurna range and Pisang Peak. Along the way you will visit Braga monastery, the largest monastery in the entire district of Manang will be memorable. Then you continue to walk to Manang. Overnight in Manang.

Day 08: Acclimatization day at Manang

In order to keep fit on the trails that follow, we keep ourselves busy today with a short hike to either Gangapurna Lake or Bhojo Gumpa. If we are more fit, we can even hike to Braga village where we can visit the Himalayan Rescue Association which will give us some idea about Acute Mountain Sickness (AMS). Overnight in Manang.

Day 09: Trek from Manang to Khangsar (3,745m): 2-3 hours

After breakfast our trek continues up to village of Khangsar. As we walk onward, the trail cuts down through a gorge and the Tilicho Peak (7,134m) starts to appear on the horizon. Surrounded by the snowy peaks from all sides, we also pass through small scenic settlements and the Tore monastery and get to enjoy the breathtaking Khangsar River before reaching Khangsar. Overnight in Khangsar.

Day 10: Trek from Khangsar to Tilicho Base Camp (4,140m): 5-6 hours

As we leave Kangsar to Tilicho Lake Base Camp, we will through across the wide pasturelands dotted with grazing yaks. As we climb up to hill we will observe the glorious view of the entire valley. After trudging down a steep inclination, now we enter to Tilicho Base Camp. Camping is the only option as there are not many lodges out here. Enjoy the peaceful environment amid the mountains. Overnight at the Base Camp

Day 11: Visit Tilicho Lake (4,949m) then trek back to Base Camp: 5-6 hours

Today, we will visit the attractive Tilicho Lake. After the initial though ascent, our traverses onto a moraine and then cuts along the side of the mountain. However, the spectacular views of Tilicho, Nilgiri, Khangsar, and Muktinath peaks are always close by to cheer us up. After the tough climb, we will reach the mesmerizing Tilicho Lake, the highest lake in the world, we get to admire its tranquil beauty. Sometimes reflections of the surrounding peaks are seen on it turquoise waters, at other times the lake remains frozen. As we spending some time around the lake, we will move back to Base Camp. Overnight in Tilicho Base Camp.

Day 12: Trek from Tilicho Base Camp to Yak Kharka (4040m): 4-5 hours

When returning from the Tilicho Base Camp, the trail lead you Marshyangdi valley as you leave behind the trees and enter a rather sparsely vegetated area. Our trail continue through of the old Khangsar village and continue uphill alongside Thorang Khola. You will cross a long Mani wall and walk through meadows with grazing yaks to arrive the temporary yak herders settlement in Yak Kharka. From here we will see breathtaking views of Tilicho Peak (7134m), Khatungkang (6484m), Chulu (6584m), and so on from Yak Kharka. Overnight in Yak Kharka.

Day 13: Trek from Yak Kharka to Thorang Phedi: (4420m) 3-4 hours

Leaving Yak Kharka, today is an uphill walk to Thorang Phedi. After walking for some moment, we cross a suspension bridge and reach Ledar village.  Accompanied by continues view of the surrounding peaks, you will walk through towering cliffs before reaching Thorang Phedi. On this days we are rewarded with one of the best views of Thorang Peak (6,144m), Syagang (6,026m), Khatungkang (6,484m), Purbung Himal (6,590m). The word Phedi in Nepalese is referred to as the foot of mountain. Overnight in Thorang Phedi.

Day 14: Trek from Thorang Phedi to Muktinath (3,800m) via Thorang-La pass (5,416m): 7-8 hours

Today trek will begin early in the morning as we will be crossing one of the highest passes in Nepal Thorang-La Pass (5,416m), which connects two district Manang and Mustang. The climb to Thorang-La Pass is quite challenging as we need to walk on the moraines on a frozen path. After reaching the top, however we realize that our journey was worth it. We can take some photos before heading down to Muktinath Valley at the foot of Thorang-La Pass. Overnight in Muktinath.   

Day 15: Trek from Muktinath to Jomsom (2,715m): 5-6 hours

Early morning we will visit Muktinath Temple, which is an ultimate destination for Hindu and Buddhist pilgrims. There are water spouts where fresh water pours out channeled from the streams above the temple. Afterward we begin our trek to Jomsom, before reach to Jomsom the trail lead us to the apple orchards of Kagbeni a village laden with chortens (memorial stupas). Then, we will follow the trails on the riverbed of Kaligandaki River as you move forward in windy areas with a view of Mt. Dhaulagiri (8,167m) and other snowy peaks. Overnight in Jomsom.

Day 16: Fly from Jomsom to Pokhara (823m): 30mins

After breakfast in Jomsom, we will fly back to Pokhara. The flight itself is spectacular, we will fly with the views of Dhaulagiri and Annapurna ranges over the deepest gorges (Kaligandaki River) in the world. Upon arrival in Pokhara, we can take a boat ride in the serene waters of the Phewa Lake under the reflection of Annapurna and Fishtail. In the evening stroll around the lakeside area. Overnight in Pokhara.

Day 17: Drive from Pokhara to Kathmandu: 7 hours

Early morning breakfast at the hotel, we will catch the tourist bus from Pokhara to Kathmandu which is about 7 hours. In the evening there will be a farewell dinner hosted by Danphe Adventure to celebrate the successful completion of our journey. Overnight in Kathmandu.
What's Included
Airport Pickups and drops in a private vehicle.
Hotel in Kathmandu and with breakfast as per the Itinerary.
Cultural tour at Kathmandu with Guide in private vehicle.
All meals (Breakfast, Lunch, and Dinner) during the trek.
All Ground and Air Transportation during the Trek.
An experienced, English speaking, and friendly guide and Porter (1 Porter 2 trekkers).
Salary for the staff including their food, drinks, accommodation, and transportation.
All necessary paper works, Conservation entry permits, and TIMS card.
An arrangement for emergency helicopter service which will be paid by your travel insurance.
Sleeping bag, down jacket and trekking map, if necessary,( to be returned after the trek)
All government taxes, vat, and local taxes.
Nepal entry visa fee. (You may easily issue the visa upon your arrival at Tribhuwan international airport (Kathmandu). You will require 2 passport size photos & 25 USD.
International airfare.
Your travel insurance (compulsory).
Meals in Kathmandu
Entry fees for cultural tours.
Personal expenses (alcoholic, non-alcoholic drinks bar bills, battery charge, extra porter, boiled water shower, etc.).
Tips for guide, porter and driver
Equipment List
List of Equipments required for Tilicho Lake Trek:
Head
One Warm winter hat/beanie
One Sun hat
1 Headband/buff
1 Sunglasses with UV protection
One Headlamp/ Torch with extra batteries
Upper Body
Two pairs of Fleece sweaters- one light and one heavier
Two pairs of quick-drying long-sleeved base layer shirts
Three pairs of Short sleeve trekking shirts
One pair of Wind/rainproof Jacket v 1 Down Jacket
Lower Body
One pair of trekking shorts
A pair of trekking trousers
One pair of lightweight thermal bottoms (seasonal)
Two pairs of trekking pants with Ziff off bottoms
One pair of fleece or woolen trousers
One pair of waterproof pants, breathable fabric
Hands
One pair of lightweight warm gloves
A pair of poly-liner glove
Feet
One pair of trekking boots
A pair of sandals/ trainers (for wearing around the lodges)
One pair of down booties (great for keeping feet warm)
Two pair of thin lightweight inner socks
Two pair of warm woolen or poly socks
Gaiters (only in winter)
Other
One Sleeping Bag
12 1 Sleeping bag liner (optional)
1 pair of trekking poles
Water purification tablets/Steripen/Drops
1 quick drying towel
FAQs
What are the visa requirements?

Currently, all the foreign nationalities (except Indians) require a visa to enter Nepal. Visas are obtainable from embassies abroad or on arrival at Kathmandu's Airport. If getting the visa at the airport be prepared for long queues. You will also need to provide one passport photo and the $50 USD fee for 30 days.

What are the physical requirements for Tilicho Lake Trek?

Tilicho Lake Trek requires you to trek at an altitude of maximum 4919m and up to 5- 7 hours per day, with a small 5-7kg bag. We recommended you to train with long hikes and/or a sport of your choice (e.g. jogging).

How old do I need to be?

There is no age restriction for doing this trip, but if you are under 16 it will better to trek with your parents. You must be health-conscious during the trek.

What is included?

Included:

Guides and Porters
Transportation (including airport transfers)
Accommodation
Permits & national park fees
Sightseeing tour in Kathmandu
All meal during the trek
Seasonal fruits

Excluded:

International flights to Kathmandu
Food – (while you are in City)
Showers on Trek
Tips
Visa fees (typically $50 USD)
Personal travel/rescue insurance

What is the accommodation like?

You will stay in the Hotel while you are in the city of Kathmandu, which is like a 3-star category. The hotel has access to showers and intermittent internet.

But while you are in trekking Tea House/lodges are the place where you spend the night during the trek, which is very basic. The room is pretty small with twin sharing and a common washroom. Some places have squat style toilets, whilst others have a western style. Shower does not always offer warm water and most teahouses will charge you for use of a hot shower.

Which meals are included?

Meals will be served as per the menu of the teahouse/lodges. Where you can find a variety of dishes like Indian, Nepalese, Tibetan, Continental, etc, to choose. Tea, coffee, bakery items, snacks, bars eggs, etc can also be found easily.

What currency should I take?

The currency used in Nepal is Nepalese Rupees (NPR). You are unable to get NPR outside of Nepal and therefore you will need to exchange money in Kathmandu. The easiest currency to exchange is USD and Euro. You can also withdraw NPR from the ATM but check with your bank about the relevant charges to do this.

Is there any Bank or ATM facility during Tilicho Lake Trek?

Yes, there is a good facility of bank and ATM in Pokhara and Jomsom.

What kind of problems can arise at a higher altitude during Tilicho Lake Trek?

There is a huge change of AMS problem i.e. Acute Mountain Sickness problem. It may cause some problems as you trek higher above 3500-meter altitude (11,482 ft.). But don't worry about that. We have carefully designed our Tilicho Lake trek itinerary with sufficient time for acclimatization and less walking time each day. And our experienced trek guide will be helping you with it.

Do I need insurance before the Tilicho Lake Trek?

Yes, you need to be insured before the adventure trekking in Nepal from your home country. However, we will be always with you taking care of throughout the whole Tilicho lake trek.

What should I pack?

Documents

Passport
Travel insurance details
2 passport photos
Cash USD
Credit/Debit Card

Head

One Warm winter hat/beanie.

One Sun hat

1 Headband/buff.

1 Sunglasses with UV protection.

One Headlamp/ Torch with extra batteries.

Upper Body

2 pairs of Fleece sweaters- one light and one heavier

2 pairs of quick-drying long-sleeved base layer shirts

3 pairs of Short sleeve trekking shirts

1 pair of Wind/rainproof Jacket v 1 Down Jacket

Lower Body

One pair of trekking shorts

A pair of trekking trousers

One pair of lightweight thermal bottoms (seasonal)

Two pairs of trekking pants with Ziff off bottoms

One pair of fleece or woolen trousers

Two pair of waterproof pants, breathable fabric

Hands

A pair of lightweight warm gloves

A pair of poly-liner glove

Feet

One pair of trekking boots

A pair of sandals/ trainers (for wearing around the lodges)

One pair of down booties (great for keeping feet warm)

Two pair of thin lightweight inner socks

Two pair of warm woolen or poly socks

Gaiters (only in winter)

Other

One Sleeping Bag

One Sleeping bag liner (optional)

A pair of trekking poles

Water purification tablets/Steripen/Drops

One quick-drying towel

What is the best time of year for Tilicho Lake Trek?

Tilicho Lake Trek is possible for the whole year, but the best time to doing this trek is spring season (March to May) and autumn season (September to November).

However trekking in winter season to chance to see snowfall with magnificent views of mountain, and in monsoon time you will see waterfalls.
Gallery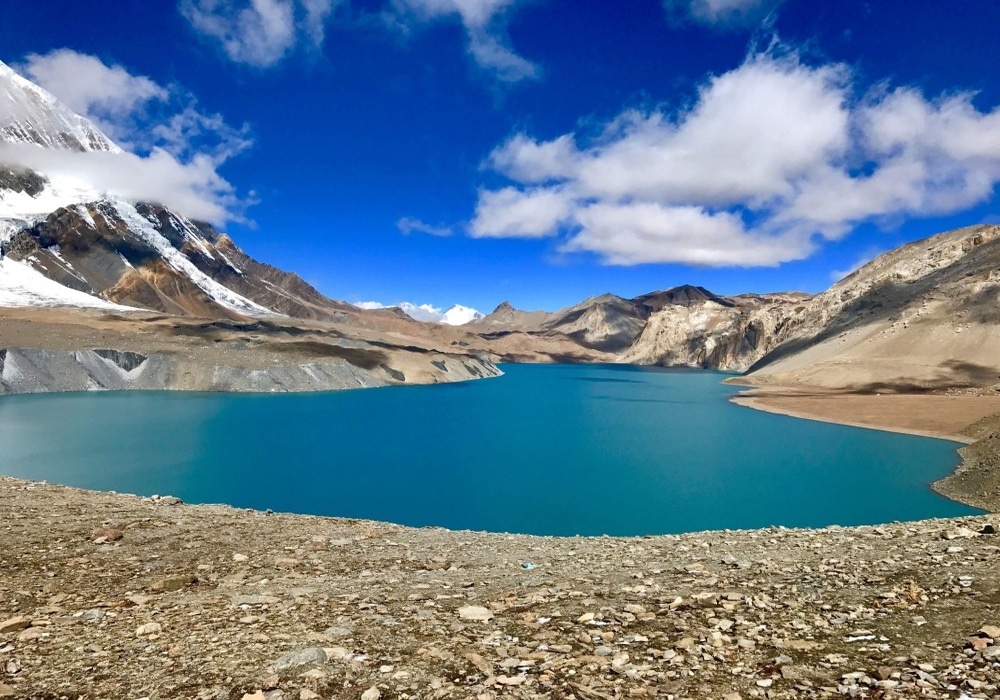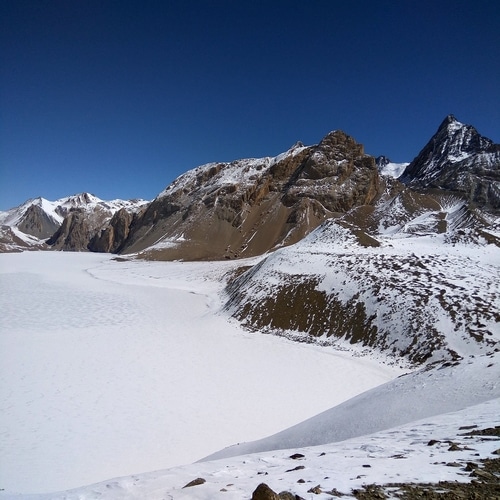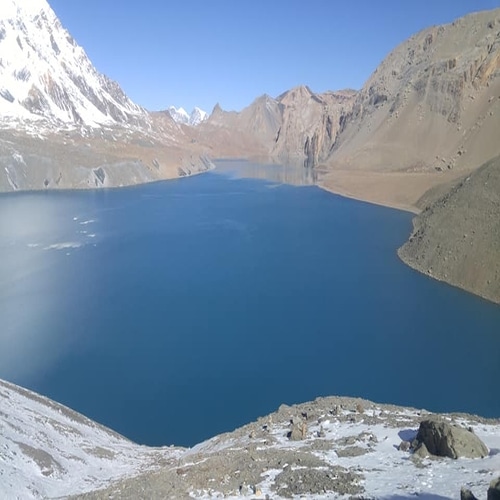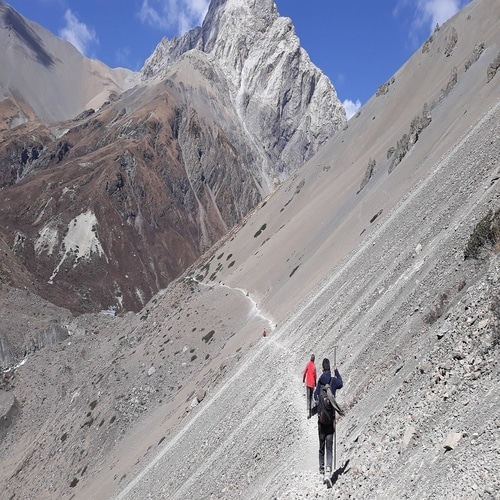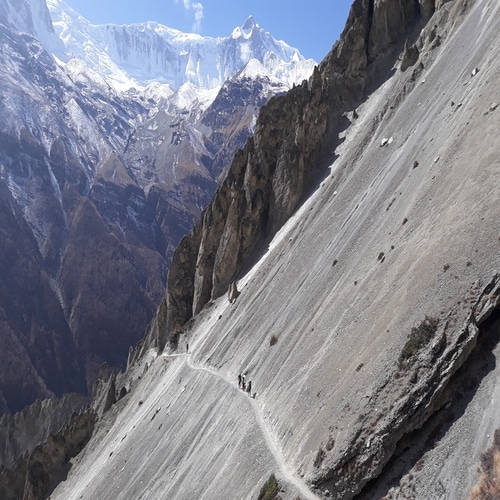 *All Inclusive Price*
$1300 USD
Prompt Online Booking
Well Arranged Itenary
Group Discount Available
Privacy Protected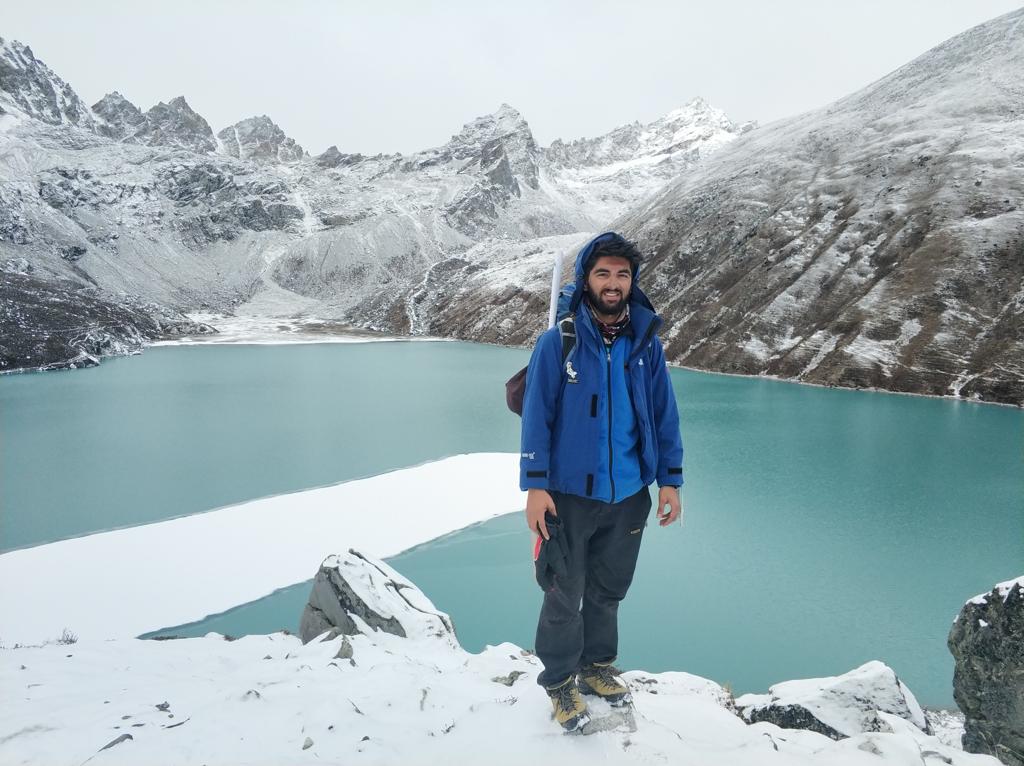 Any Question? Feel free to call our travel experts.